Here's what people who have already taken courses are saying...
I made my first $3000 within just a month of taking Debbie's class
I made my first $3000 within just a month of taking Debbie's class, even though this is a completely different type of consulting work for me than I've been doing the last 8 years.
~Aspiratech Training
---
Don't hesitate! This course is well worth the time and the money
I've read several books on the subject of marketing and sat through a lot of videos from others offering to provide education and advice on how to become a coach or consultant. Since I've been a trainer and consultant in the non-profit sector for many years but have wearied of the travel, I wanted to learn how to do this on-line. Debbie's course is so helpful...and so much less expensive than many of the others out there. (Hint - Beware of those offering to "certify" you as a coach or consultant. There is no such thing unless you need certification in the IT sector or in the medical field. Those guys made it up and want to charge you for it.) Debbie's lectures are very well done and professionally produced. The handouts alone are worth the cost of the course. So, whether you're a new coach just starting out or an experienced one looking to expand or redirect, take this course. You will not be sorry.
~Jack
---
Very Detailed
I stepped away from my business for awhile and am relaunching it... taking it in a totally different direction. I couldn't get my mind to walk away from what the business was to where I wanted it to go. I thought this course could help jumpstart things and it has. It's given me a lot of food for thought as I work out the kinks. THANK YOU!
~Alyice Edrich
---
Clear & Methodical
I love the clear steps and worksheets that are provided by Debbie. The best way is to really go through each and every exercise diligently. You will probably not get everything perfect the first time, but it sets you thinking in a particular manner that pushes you in the correct direction. At the end of the course, you really have a framework of materials that you can refer, and also constantly return to and improve.
~Alex Wong
---
Excellent Marketing and Branding Information
I'm a graphic designer and art director for over 10yrs. I'm now freelancing/consulting and need help marketing my business The Graphic Designer's Studio at tgd-studios.com. It's an excellent course in branding yourself and to in turn help my clients put together a better business strategy with my art and design work. Thanks Debbie.
~Maria Ali
---
Very Detailed and Very Useful Handouts
I love that we were given hand outs to fill out - this made me think about myself as a brand and what I was marketing. The lectures were very detailed with examples and given to me clearly, but listening while looking at my handouts really helped me learn!!
~Rae Bucher
---
Very Helpful
The course guides you step by step. Practical, clear to the point, and very informative.
~Gissele Ospina
---
Highly recommended course
This is an excellent course if you want to understand and put together the pieces to create your own business. There will be many things to think about and tweak still Debbie LaChusa takes care of guiding you through this course so that you will be able to know how to do it. She is very clear, and shows her knowledge. I highly recommend to take this course to anyone that wants to understand how to do it, the challenges and the special tips she teaches. Thank you Debbie LaChusa, I enjoyed it very much!
~Esther Coronel de Iberkleid
---
This course was awesome!
Great information and exercises. Can't wait to implement them.
~LaDonna Bracy, MBA
---
Outstanding Course
This is a great course if you are looking to start a consulting business and don't know where to begin. If you do the exercises associated with the lessons you will learn about yourself, your prospects and the process of marketing to and acquiring clients. I recognized early on how valuable the info in this course was so I went through it slowly and I suggest you do the same. Great job, Debbie!
~Mickey Langley
---
Great depth, practical exercises and systematic approach
Debbie is very knowledgeable and shares her wealth of experience and insight through this course. I have been able to gain a deeper understanding of my business, and real clarity for the first time what outcomes I'm seeking from my marketing efforts. Great course. Highly recommend it for beginners and seasoned practitioners alike.
~Michelle Walker, Director, Curious Minds Co.
---
Awesome Course
This course almost made me cry. Things that I have been learning through trial and error was given as a business plan on a platter!
~Bala Paranj
---
Excellent Content!
Although I thought I had the fundamentals of marketing nailed, this course filled in some missing pieces and helped me establish a realistic plan of action. I really enjoyed the process and recommend this course to anyone looking to establish or enhance their business as a coach/consultant.
~Reign Lee
---
Great Course
I really enjoyed and learned a lot from this course. Debbie is great lecturer and is a really practical and hands on person. This course is real "HOW TO" as it gives you tools and examples how to become better consultant. I am new in the consulting business and I will benefit a lot from this course.
~Ivan Bildi
---
The course is clear and easy to understand making easy what was difficult before.
Brings the complete knowledge to make one sure about all things will be needed in order to put a business to work. I´ve really learned things that before could not imagine how to do. Now I really feel ready to start my own business sure that it will work well. Thank you Debbie!
~Sidney Rizzo Junior
---
Great Course! Great Course!
Debbie provided very detailed material that was very helpful in combination with the videos. This was course was enjoyable and packed with great information...thanks Debbie!
~Adrienne Osborne
---
An excellent course!
Thank you, Debbie, for your outstanding course! You break it down and explain it in an excellent way. I really recommend this class.
~Magnus Haarberg
---
Very good!!
I found this course very practical. I takes you step by step and that makes it a very easy to follow process. I find it really inspiring. Debbie is a great communicator and expert in the subject, she talks and gives examples on her experiences and shares a lot of very interesting material. I strongly recommend it to everyone determined to succeed!!
~Maria Naranjo
---
Debbie LaChusa is the real deal!
After interviewing many coaches, Ive been absolutely thrilled with this course and the presentation of the material. Now it's a matter for me to put the suggestions to good use, but I finally am beginning to see the bigger picture. Thank you very much, Debbie!
~Rossi
---
The Best!
Debbie, you have given such value and I am so happy to have found out about you. A facebook friend posted your offer and we all started a group to encourage each other as we tackled each lesson. I believe you have helped me learn more than countless others have tried. Your style of teaching and your generosity deserves more than just a star review! Thank you very much.
~Debbie Kessler
---
Well designed course
Debbie has done an excellent job by putting together this well designed course!
~Varghese Abraham
---
Practical, professional and targeted
This course answered the questions and filled in the gaps that I needed to get started. I'm a recognized expert in my field, but in the past I haven't had to market myself. I have been doing research for a while, but other programs where either "anyone can get rich quick" nonsense or corporate theory. Debbie knows what she is talking about (which is good) - and does a fantastic job of breaking it down and explaining it (which is invaluable - and rare). I recommend this class highly. Thank you Debbie.
~Andrew Hupert
---
Great professional advice
I really enjoyed this course and it really helped me in my business. Debbie is very good on explaining how to find your niche and working out what your business is all about which is something I've struggled with.
It's packed with really great ideas for people who want to sell their expertise online.
Thanks!
~Rob Cubbon
---
Wow - Outstanding Information!
The content of this course, the information presented in the video and the handouts and worksheets combine to create a powerful tool to propel business forward. I cannot wait to see where my business heads after implementing Debbie's strategies. Thank you so much for the amazing content. I have a lot of work ahead of me but am thrilled with such a great road map to follow.
~Jennifer Dawson
---
Lesson 21 is Worth Five Digits To Me
This is an excellent course, easily worth the money and time.
I have been an independent consultant for four years and I found two ideas particularly helpful. First, Debbie's view that my marketing approach should be consistent with who I am as a person. Second, Debbie's description of the consultative sales call (Lesson 21).
~Michael de la Maza
---
Essential!
Debbie is not only an experienced and knowledgeable expert, she's outstanding at organizing and delivering her material. Do NOT start a business without this course.
~Michael Angier
---
This is great information that I can truly use
Hi Debbie. I am glad I chose to take your course. I am up to Section 5 and am extremely impressed with what I have learned thus far. This is great information that I can truly use to start and operate my coaching business. Thank you so much for sharing!
~Maddy
---
---
Incredible Value
Debbie thank you for showing us how it's done. Not only did I learn a lot of practical information about branding, but through your example I learned just as much about designing and delivering a 5-star course. Thank you! Have already signed up for another of your classes.
~Sidney eve Matrix
---
Very Thorough Course on Personal And Business Branding
Debbie LaChusa really knows her stuff on how to "PROPERLY" brand yourself and your business. Her course is not filled with fluff but has real practical information on how to create, research, protect and implement your brand as well as some case studies and interviews. In my industry, Internet Network Marketing, we are pitched To use "Attracting Marketing" and to "Brand Your Name", this course covers all aspects of creating a long lasting professional brand. I went through the whole course once and will go through it again more slowly so as get the most out of it.
~Willie Robinson
---
Or why it's important to brand yourself!
Pretty nice advice about branding yourself but also I found out the great advantages of doing this. The course also encouraged me to spend more time in branding.
~George-Bogdan Ivanov
---
Outstanding Information
Debbie covers so much concrete information in this course. Just went back today to re-listen and was reminded once again what great value this How to Brand Yourself was. Thanks again Debbie.
~Jennifer Dawson
---
Clear pointers backed by years of experience
I was confident that the advice I was getting was backed by solid experience. Glad to have done the course, thanks Debbie
~Kellie Edwards
---
Great Course and Instructor!
Debbie is clear, concise and warm as she takes you through her logical branding process. She includes helpful exercises and informative interviews. This is the first course of hers that I have taken, and I plan on taking more. Thank you Debbie for an excellent course!
~Pam Hoffman
---
Professionally Presented
I really enjoyed every minute of the course. Included excellent handouts which make it easier to go back and brainstorm ideas. Debbie explains everything very clearly - not boring. Looking forward to her other courses!
~Karen Skinner
---
Very Informative!
This is another great course by Debbie LaChusa that contains detailed information about branding. I believe that most people will find this course material clear and easy to follow. I also recommend Debbie's other course on marketing named, "How to Market Yourself as a Coach or Consultant." These two courses complement each other. In addition, Debbie shared lots of helpful handouts in both courses.
I look forward to applying this material...thank you, Debbie!
~Adrienne Osborne
---
Very comprehensive, well structured and useful
I loved this course. It was very comprehensive, well structured and useful, which was no doubt due to Debbie's many years of consulting on this topic.
The videos clearly explained the steps and the activities really helped me uncover my business promise, platform and brand. It has simplified and clarified things for me, and also given me a lot to think about.
I feel as though I have been in an intensive two-day branding workshop with a leading business branding expert. The experience was worth so much more than the price of the course.
I highly recommend this course to other service professionals who want help in branding their business.
~Louise Bloom
---
Great course great value!
As Debbie says, this course was indeed informational, educational, and above all very inspiring.
Did not know how much more is needed to establish a brand, it is not as simple as coming up with a name and creating a website.
All the course handouts helped me walk through the process and build up my portfolio.
The guidance provided on how to come up with a brand name, doing the look-ups and ensuring the brand is not being used by someone else was very helpful.
The interviews helped me in linking up the process with real life user experiences.
I am all set to create and improve my brand.
Thank you Debbie!
~Shahid Sharif
---
Lots of benefits from thinking about yourself as a brand
There is sensible advice in this course about how to turn yourself into a brand. This is something that all business including the sole trader should consider and Debbie takes us through a nine-step process that she uses with all her clients. I thought I new a lot about "Brand You" (indeed in the past I've given talks about it at business networking meetings here in the UK) but this course has certainly added to my knowledge and given me some tips I need to apply to myself!
~Barry Mapp
---
---
Very thorough, packed with useful information
I enjoy Debbie's straightforward approach; she's clear, concise and always informative. While I may not be interested in applying each of the content marketing strategies right now, I feel like I have the information I need to begin any of them after watching the associated lectures. I like that the course includes specific instructions on how to get started, including links and examples. For me, that's key to getting started and figuring out which of these strategies make sense for my business. Thank you!
~Camille Freeman
---
Excellent course by an expert teacher
I have taken a lot of courses and Debbie LaChusa's are so far the best. She is clearly an expert in her field and she is a very talented teacher as well as an obvious perfectionist (judging by the quality of her course).
I already knew a bit about content marketing but I learned a lot more that I didn't know and the workbook activities were very helpful to put together my own content marketing plan.
I'm confident that when I put this plan into practice it will change my business for the better.
Highly recommended course!
~Jamie Louise
---
---
Like your friendly neighbour
A course that anyone should take, preferably before going off on their own. It is very refreshing to get advice and experiences from someone who has done that been there but still walks among the rest of us. This course spans all the way from failed businesses to taking care of yourself. I especially liked the point that was made that you have to allow yourself time to think otherwise you will not evolve. This is the first time I hear someone give the advice that your run or walk is an asset not only to your health but also to your thinking process and consequently to your business. So the Title "Did You Know" gets answered with "No I Didn't but Now I Do."
~Carl Spira
---
Things I'd never thought of
This is one of those courses where everything that Debbie says you think to yourself "well of course," and yet there were a number of these that I had not thought to do.
It takes someone who has been through all of the heartache to create a list like this to help us newbies out.
Thank you Debbie for being that someone.
~Kylie Dunn
---
This course was very comprehensive and well thought out
She discussed every aspect one should consider and implement in the business of coaching and/or consulting. She also included many examples from her personal experience in business. Her style of teaching was easy to follow and understand. If you want a complete overview of what you should know about coaching or consulting, then this is the course for you.
~Cash Flow Consultant Don Mayer
---
Your course was very interesting and useful.
I am a very busy professional but watched it in one go and didn't even see the time go by! It really motivated me and I can't tell you how good I felt about marketing myself by the end of the course. I have my own business (language training) but don't know anything about marketing a product from scratch (I've just trained as a language coach).
What I liked about the course was:
the pace – not too fast but not boring
the tone - starting from the beginning but not condescending
the visuals helped to keep it together – writing the important parts helped to assimilate the message
It was just right for me and was a great experience.
~ Sue Thomas
---
---
Effective teachings
For me this course was confirmation that I did everything right after Debbie's "Marketing - How to Market Yourself as a Coach or Consultant" course. What she teaches in this course is exactly what I did, other than that I refuse to go to networking events, so didn't. I made my first $3000 within just a month of taking Debbie's other class, even though this is a completely different type of consulting work for me than I've been doing the last 8 years. While I didn't learn anything new from this course, I'm glad I took it so that I can be confident I have a strong foundation. If you haven't done it yet, I can only say that my experience tells me you would be well advised to.
~Aspiratech Training
---
This is the real stuff!
As a practicing coach, I can tell you that Debbie is giving you the straight scoop here. In my experience, one of the biggest causes of small business failure is the owner's fear/distaste/discomfort with selling. If this is true for you, my advice is to either follow Debbie's advice ... or find another way to earn a living.
~Mike Campeau
---
Simple and easy to understand instructions
The course has what you need to take action right away to land the RIGHT clients. It was easy to follow along and the downloadable print outs are useful. Well worth the time spent. But you're not going to get the results you want if you don't do the work.
~Alicia E. Vaz
---
Helpful and concise!
Excellent class. Thank you Debbie!
In addition to being well-organized and concise, this class was helpful in a number of ways, including:
1) Pointing out that "planning" your business is NOT the same as "running" your business.
2) Specific tasks that were broken down into very managenable chunks.
3) Acknowledgement that some of the steps are not comfortable, but that they should be done anyway. (Also: the fact they are uncomforatble is not an indicator that you are doing it wrong,) And if you are not willing to do them you may not be committed to actually running a business.
4) Handouts - although I always take extensive notes (it helps me to understand the information) but I find great value in the handouts to round out my own notes.
~ Alison Lara
---
First Class!
~Hans W. Lehmann
---
---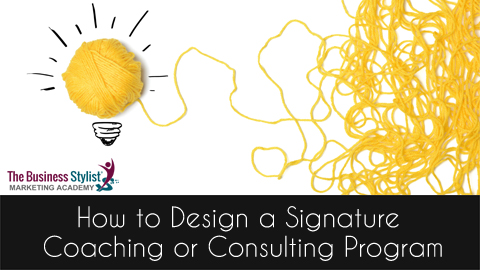 Fantastic course - ideal for coaches and consultants
Debbie is an excellent communicator and the course content is clear and well structured. Going through the course taught me a lot about what I needed to be teaching my clients from this course (that I hadn't even realised) and made it simple to understand and implement. Highly recommended.
~Dallas McMillan
---
I followed Debbie's 5 step process for a new proposal which was accepted promptly, without question or negotiation.
For the past 12 years, as a business and marketing mentor, setting the correct price for my clients for the services they offered has always been an issue, even setting my own pricing has been a problem. I was able to give my clients the formula for establishing their hourly rate but including the 'adding value' element was missing. Debbie's course 'How to Design a Signature Program' was exactly what I needed to solve this problem. Further, I tested this myself, after finishing the course. I followed Debbie's 5 step process for a new proposal which was accepted promptly, without question or negotiation. I highly recommend Debbie's easy step-by-step model for pricing, which in my opinion, can be applied to anyone offering a service and not only for coaches, consultants and mentors.
---
Great Course
Easy to understand and follow. You will have to put the work in to really benefit from it. I did all of the assignments and had my signature program created by the end of the course.
~Rev Michelle
---
---
Great Course
This is a great follow-up to her "How to Design a Signature Coaching or Consulting Program". If you have completed that class, this IS the next step.
1. The course is broken down into steps. She tells you the steps you need to take and why you should take them.
2. She is very knowledgeable about what she is teaching and shares what did not work for her. She makes you feel like "I can do this".
3. It can help you whether you are a beginner or have been coaching for a while.
If one of your biggest problems is selling your program, you will want to take this course. I HATE selling!!! It removes the guess work and makes you feel like you are having a conversation with the client verses selling.
~Rev Michelle